Boat Smart Program
Is a one day program requires students to; safely launch a vessel from a trailer, row a tender, conduct a dinghy capsize and rescue exercise, drive a boat, return a boat to its trailer, flush an outboard and wash a boat.
During the course students also discuss maritime employment and boating regulations with local Maritime Boating Officers and run through basic small outboard operation.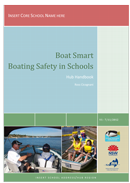 Click here to for Draft Boatsmart Handbook
PLease see the list below showing your local Boating education officers.