Excursions
Association conferences, excursions and training days are conducted to benefit members' professional learning and their students. The Association is also active providing inservice experiences such as AMC (Launceston), Regional Network Meetings on the Central Coast, Boating Training at Cronulla. Investigate and/or provide similar TPL type activities suited to your regional or school expertise that would benefit our members.
Suggestions for excursions
James Craig Overnight Excursion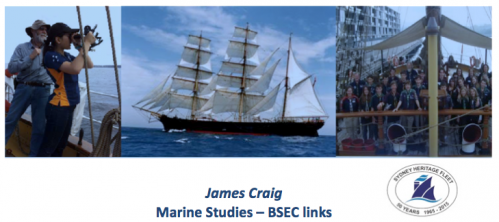 The Sydney Heritage Fleet is proud to offer schools the opportunity to deepen their experience within Marine Studies through a unique experience on a genuine 19th century tall ship!
The programs offered on board have direct links to many areas of the Marine Studies Syllabus. For example, within Life at Sea we explore Marine Engineering and Marine Archology. Most of our activities relate to Humans in Water; Boating and Seamanship, Pilotage and Navigation and the Wind Powered Craft Modules.
We tailor our programs in line with the interests of your students and/or to complement the content covered by the class. Our packages are all led by our Youth Program Coordinator, Erin Jones, an experienced teacher. She is assisted in her delivery by experienced James Craig volunteers, all of whom are familiar with the operation of the ship and have Working with Children clearance. Risk assessments have been undertaken where appropriate and are available on request.
BSEC Sleepover aboard James Craig
Students and Teachers will be transported back in time 140 years. Some typical activities in the BSEC package include:
§ Heaving cargo in the traditional way
§ Transport to and from Watsons Bay on a heritage vessel from 1943 § Swabbing the decks
§ Knot tying
§ Navigation
§ Learning the language and discipline of the sea
§ Climbing
Students sleep in hammocks or in bunks below decks while the ship remains safely moored at Wharf 7, Pyrmont Bay.
A typical excursion begins at midday and is split into two sections; Watsons Bay, Pilot Station activities and James Craig activities. Depending on your needs and the availability of these two spaces there is flexibility in which activities take place when. For example, arrive day one at 12pm, spend the afternoon and evening on board the JC departing from Wharf 7 after breakfast to the Pilot Station on day two.
We have a minimum booking of 20 students and a maximum of 40. With 40 students we split into two groups and they alternate activities. You are also welcome to combine with another school to make up numbers.
Cost for students= $95/head
Cost for accompanying teachers = $65/head
Prices include dinner, supper, breakfast and all activities. Special dietary needs can be accommodated. We are a nut free program.
Booking
For more information or to make a booking, please contact Erin Jones on 0451 791 715 or at
youthprograms@shf.org.au 
Boat Harbour Snorkelling
See resources below to assist you in organising this excursion. 
Snorkelling guidelines and risk assessment 
FantaSea Whale watching and harbour tours
Fantasea is a passionate operator and dedicated to offering an experience whereby the learnings and education of marine wildlife is as important as viewing the wild life itself. Our mission is to provide lifelong memories and have both children and adults talking about their experience, sharing their stories and being overwhelmed by some of the world's greatest natural beauty.
Fantasea offers great school packages and for details please contact Chris Pilkington on chris.pilkington@fantasea.com.au or 0400 116 894.
Tailor Made Fish Farms - Port Stephens
Tailor Made Fish Farms Pty Ltd is a commercial aquaculture business located in the Port Stephens area of the Hunter region in NSW.  TMFF is recognized in Australia and overseas as an expert in land based intensive aquaculture farming.  The company has invested $1.5m pioneering our aquaculture technology and applied this to a successfully Integrated  Aquaculture + Hydroponics System.
Checkout the Seafood CRC website for excellent student resources  - http://seafoodcrctraining.com.au
And also this Fish site for a great range of videos on Australian fish conservation efforts -  http://www.finterest.com.au/
Shark and Ray Centre - Port Stephens 
Irukandji Shark & Ray Encounters provides an unique learning experience, where students can interact with the most misunderstood family of marine species in the world. Our programs are dedicated on delivering an interactive educational experience while the students immerse themselves in an unique marine domain. Our aim is to create and further inspire awareness of the world's oceans ecosystems providing a hands on approach to understanding the impacts we are having on them today. 
Highly trained instructors will introduce students and staff to our exciting marine world, where students will be treated to an array of marine facts and activities that are designed to adhere to "Our Mission" of striving to create programs that are: 
Fun- through interactive learning.
Challenging- Unique educational learning of one of the world's most misunderstood marine species. 
Diverse learning - not everybody learns in the same way, through diversity you can achieve outcomes you never thought possible.
Relevant- our programs are designed in partnership with schools to achieve quality educational outcomes.
Memorable- we have created our programs to provide activities that children will remember for a life time.
For further information on how the Irukandji Shark and Ray Encounters can help you link your years outcomes to this amazing excursion. Visit their website www.sharkencounters.com.au or contact Ryan on 02 49 82 2476 for more details.
Further Resources
Eating sustainably could be the most important decision we can make when it comes to eating seafood. The Marine Conservation Society has created an app we can use to help use make an informative decisions please follow this link to learn more. http://www.sustainableseafood.org.au/
Sand boarding with Port Stephens 4WD tours
http://portstephens4wd.com.au/ 
"The kids totally loved driving over the dunes on the 4WD bus and then they had a couple of hours sand boarding. It cost about $15/student. The guide were really helpful and easy going."
LP Dutton Trout Hatchery at Ebor
http://www.nnsw.com.au/ebor/lpdutton.html
"Their website isn't very exciting BUT the tour that we did was tops. It only cost $2.50/kid and they watched a video, did a tour and fed the trout. The guide was terrific and he said that if you visit in May-June, the kids get to learn how to milk the trout and they can have a go at it. My kids really loved it here and they are super keen to go back and milk trout next year."